Fancy a flutter?
Another year on and they are still flapping about it. After much preparation the competitors are almost ready for this years annual Turlough Duck Race, which will coincide with the Heritage day, on Sunday June 18th starting at two 'o clock.

The duck race begins at 3:00 p.m. Last year's race proved to be highly entertaining. 1,800 ducks will be launched onto the river and tickets are currently on sale for the race, priced at a mere €5 each. This novel event is just one of around forty events which will take place that day.
Photos from the 2005 Duck Race, Heritage Day and Vintage Rally and also from the 2004 Duck Race - photos from Peter Jordan.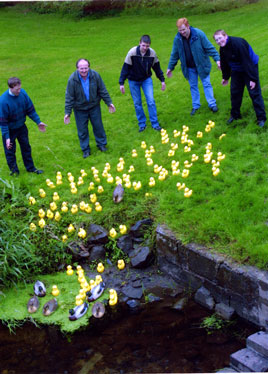 Click the image to enlarge.
TRAINING THE CONTESTANTS FOR TURLOUGH DUCK RACE
From left: Michael Barrett, Tom Lawless, Patrick Hall, Tom Callaghan and Michael Barrett junior at a training session back in 2001 on Turlough river preparing for the Duck Race which is now an annual event and takes place on June 18th 2006.
Historic Crafts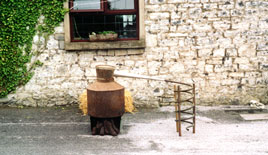 Click the image to enlarge.
Poitin still
top
A variety of historic crafts will be on display on the day including bread-making on an open fire, wood crafting, basket making and a variety of vintage vehicles.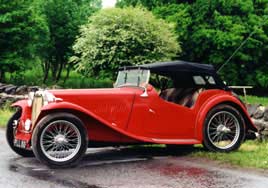 Click the image to enlarge.
M.g. tc
A tinsmith will be working in the area as part of the heritage day and an old Thrashing machine will be exhibited.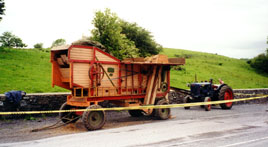 Click the image to enlarge.
Thrashing machine
For the children there will be a bouncing castle and street entertainment of various types.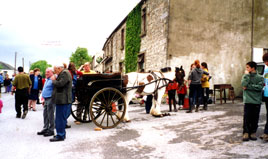 Click the image to enlarge.
Horse and trap
There will also be a country style market where home produce will be sold. (strictly heritage day - no hawker's allowed)
top
Other Fun Activities
Other fun activities on the day will include a wheel of fortune and a garden music party. Refreshments will be served all day. There will be music by the bofield ceili band as well as local musicians and dancers.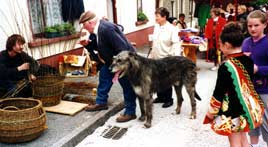 Click the image to enlarge.
Teaching an old dog new tricks
Prizes on the day include a range of valuable items and perhaps even a cash prize or two.
The heritage day will begin at 2p.m. Festivities will continue throughout the day. All the proceeds will go to Turlough Community Development Association which will work to develop the heritage village of Turlough.
top

Committee
Organisation Committee of Turlough Community Association for 2005
Ger Carney, Dick Geraghty, Amanda McArdle, James Potter, Ann McHugh, Teresa Filan, Padraic Horkan, Martin McHugh, Rose Geraghty, Thomas Horkan, Mary Nolan, Sean Horkan.

Turlough House has been restored in conjunction with the National Museum of Ireland and the village of Turlough is rapidly developing as a local tourist location. Since its opening in Sep 2001 the Museum now attracts many hundreds of thousands of visitors each year.
The Duck Race and Heritage day are always a great success and the day is an opportunity for people to get a taste of the past and heritage of rural times.
An enjoyable day is guaranteed to be had by all.

top

Prizes for Duck Race
€2500 Prizes - including:
First Prize: €1000 - sponsored by Horkans
Other Prizes include:
€300 - holiday voucher
Colour TV,
Dinner for Two,
€200 voucher for Kelly's Hairdressers
top
Events
TRASHER-JIM Mc ELLIN
BOFIELD CEILE BAND IRISH BELLOWS
COUNTRY MARKETS
WOOD TURNER
GO-KART TRACK
COPPER SMITH
WHEEL OF FORTUNE
BUTTER MAKER
BAR-B-QUE
BASKETING MAKING
GARDEN TEA PARTY
OLD FARM EQUIPMENT
REFRESHMENTS
CRAFT MAKING
VARIETY OF POULTRY
TIN SMITHING
STONE MASON
BLACK SMITHING
BOUNCING CASTLE
VINTAGE CARS
BEST DRESSED HERITAGE COSTUME
CREATE A PLATE
FACE PAINTING
NOVELTY EVENTS
POTTERY
"DUCK RACE"
BOG OAK WOOD CARVING
JEWELLERY MAKING
KNITTING "ARAN"
WICKER WORK
STRAW MAKING
SPINNING
STEAM ENGINE
STEP DANCERS
STRAW BOYS
Telephone:(094) 9021850
Go to Castlebar